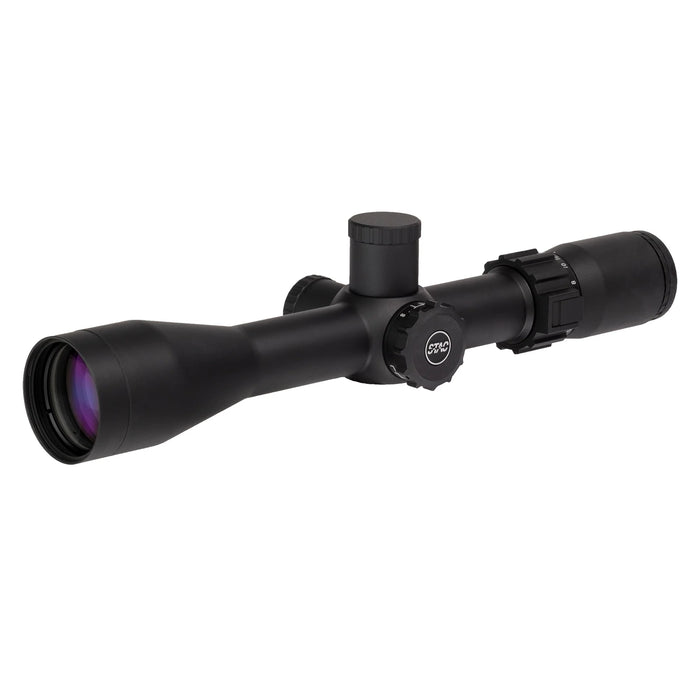 Sightron S-TAC 3-16x42
Original price
$479.99
-
Original price
$499.99
Sightron S-TAC 3-16x42
The Sightron S-TAC 3-16x42 rifle scope, the ultimate tool for precision shooting. With an impressive magnification range of 3-16x and a 42mm objective lens, this scope delivers crystal-clear images and exceptional brightness even in low light conditions.
The Sightron S-TAC 3-16x42 features multi-coated lenses that enhance light transmission and reduce glare for a clearer sight picture. The scope is also equipped with Sightron's Zact-7 Revcoat® lens coating, which provides superior resistance to scratching, smudging, and other types of damage that can occur during use.
Designed for maximum versatility, the Sightron S-TAC 3-16x42 features a rugged and durable construction that can withstand even the toughest environments. It has a one-piece main tube made from aircraft-grade aluminum for added durability, and it's shockproof, waterproof, and fog proof, making it the perfect choice for hunting, tactical operations, and competitive shooting.
This rifle scope comes with Sightron's ExacTrack™ windage and elevation adjustment system that delivers precise and repeatable adjustments, ensuring you hit your target with every shot. Additionally, the scope has a fast-focus eyepiece that enables quick and easy reticle focusing, providing shooters with the ability to get on target quickly and stay on target.
Overall, the Sightron S-TAC 3-16x42 rifle scope is a high-quality and versatile optic that delivers exceptional performance and durability. Whether you're a seasoned shooter or just starting out, this scope will help you achieve your shooting goals with ease and precision.
ExactTrack W&E System
Never experience drift with Sightron's patented windage and elevation adjustment technology. It provides proper alignment between the adjustments and the erector tube by maintaining the same constant and accurate point of pressure at zero or extreme adjustments.
Exclusive Optical Design
Using the right materials for the correct application, Sightron engineers build optical formulas around the best optical glass to reduce chromatic aberrations, improve color accuracy, and deliver excellent light transmission and best-in-class resolution and sharpness.
Zact-7 Revcoat®
Exclusive Zact-7 Revcoat® multi-coating process employs revolutionary lens coating technology on both surfaces of the lenses for maximum anti-reflection performance and the high light transmission.
First Focal Plane Reticle
The reticle size changes with the magnification setting. Reticle values remain constant in relation to your target.
Reticle Material
Etched Glass for a superior viewing experience
Shock Proof
Built to withstand high caliber recoil and accidental impacts
Waterproof
Rated at IPX7 waterproof standards
Fog Proof
Nitrogen gas charged for a lifetime of fog free use
Tube Construction
Milled from a single piece of lightweight, industrial grade aluminum