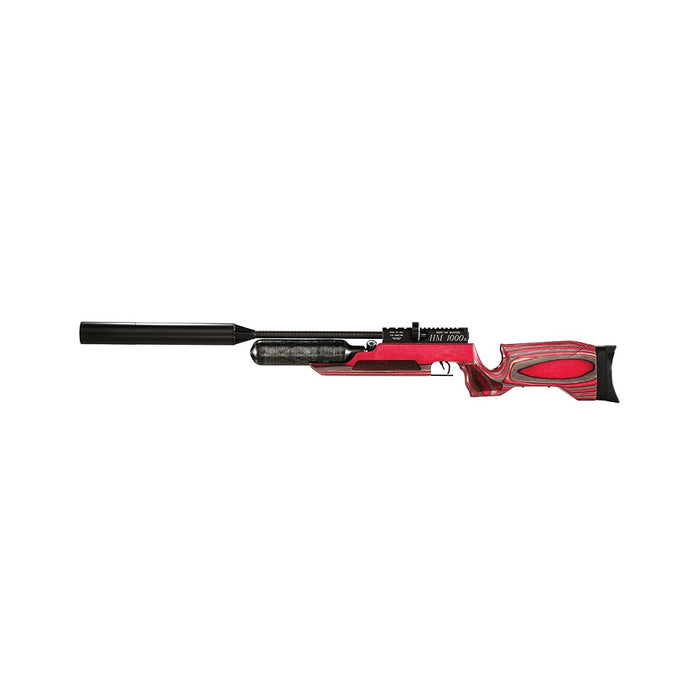 R.A.W. HM1000X LRT
Original price
$2,099.99
-
Original price
$2,099.99
R.A.W. HM1000X LRT Airgun
At the heart of the LRT is the proven HM1000x receiver featuring our high-power tune allowing the LRT to create up to 50 foot-pounds of muzzle energy in .22 and 60 foot-pounds in .25. The fully regulated design ensures that shot strings are consistent and the 480-cc carbon fiber bottle ensures that you will have enough air on board for extended stays at the range or in the field. Every HM1000x LRT features a Lothar Walther, polygon rifled barrel that, after being fitted to the receiver, is tested to ensure accuracy before it leaves the factory.
The LRT stock provides excellent ergonomics and true ambidexterity. The pistol grip features generous palm swells, a steep grip angle, and a checkered finish for a positive, no slip grip. The forend sports a flat underside providing a solid contact surface for shooters wanting to use there HM1000x LRT from a benchrest. 5 M-Lok slots are integrated into the forend so that off the shelf accessories such as bipods, sling studs, and Q.D. attachments can be easily added without the use of specialty adaptors. The LRT stock's cheek piece is height adjustable as well as the butt pad. The two can be adjusted in combination to give shooters the perfect position on the rifle to allow for maximum accuracy.
The HM1000x LRT fires from a rotary magazine that holds 12 shots in .22 and .25, 9 shots in .30, and 7 shots in .357. Single Shot trays are also available for those wanting to hand load their rifles. The side lever cocking mechanism offers unmatched smoothness as well as hardened steel linkage ready for a lifetime of shooting. The trigger is a fully adjustable version of our TM1000 target trigger with an added safety catch and features polished and hardened steel parts for durability and smoothness.
The RAW HM1000x LRT builds on the heritage of its forbearers while adding updated features that hunters and competitors have asked for, combining to create the pinnacle airgunning experience. Whether in the field or on the competition firing line, RAW delivers.