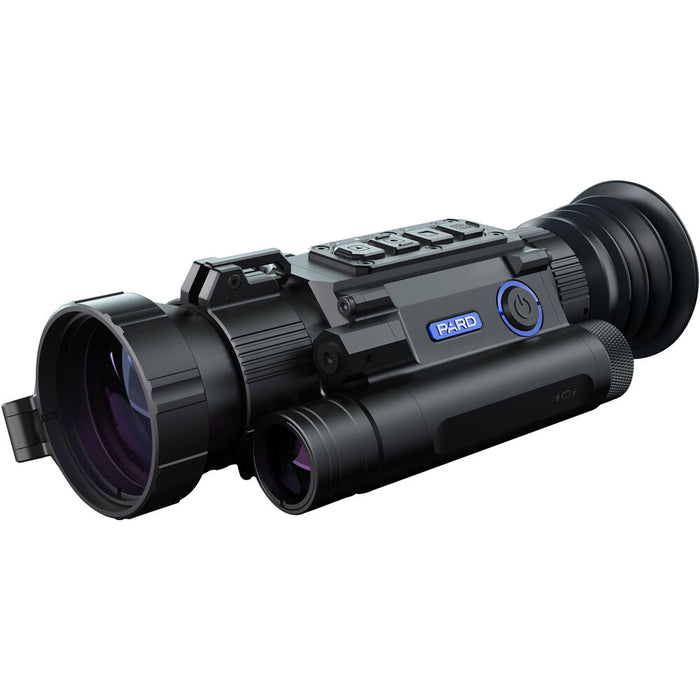 Pard SA32 Thermal Scope
Sold out
Original price
$1,999.99
-
Original price
$2,299.99
PARD SA32 Thermal Scope 
A small and light-weight infrared thermal imaging system for rifles is the SA32 Thermal Scope from PARD. It has a ballistic calculator that can accurately calculate the distance traveled by a bullet and then display an additional crosshair on the side. Accuracy across long distances is improved by doing this. The scope comes with a 19mm lens with a 13.8 x 10.4° field of view, a 2x optical zoom, and a 2-8x digital zoom. A foldable lens cover, focus lever, mute buttons, and a power/sleep button are all features of the SA32. Picture-in-picture, a gyroscope, a compass, and more are additional features.
PARD SA 32 High Sensitive Thermal Imagery
In the worst weather, with poor thermal contrast, the 12 m, NETD 25 mK sensor enables precision detail detection. The state-of-the-art sensor is built with cutting-edge technology to produce natural and vivid imagery. It is extremely sensitive and can pick up even the smallest temperature variations. Strong dynamic capture capability is ensured by the sensor's 50 Hz frame rate. The sensor produces vibrant images with constant sharpness and better clarity without any picture smearing delay.
The SA32/SA62 more than meets your needs if you're looking for a durable and reliable tool. An accurate trajectory is provided by the ballistic calculator, which can also display an additional cross-hair on the side and compute the bullet's exact travel distance, allowing you to hit targets at a distance. It now offers consumers intelligent techballistic solutions in real time for all of your parameters, making it more precise. The updated ballistic calculator allows users to have a professional and accurate shooting experience while outside. It is seamless and completely dependable. Now you can hunt and shoot with confidence, knowing that every shot you take will hit its objective.
Offering users the ability to precisely acquire their targets over a much wider range with an exceptional measurement detection range of up to 1200 meters. Absolute precision in any hunting circumstance is now possible thanks to a range module with a volume reduction of 70% and performance improvements of 50%. Due to its unmatched performance and excellent affordability, this thermal imaging gadget makes the ideal tool for any hunter or shooter looking for long-range solutions.