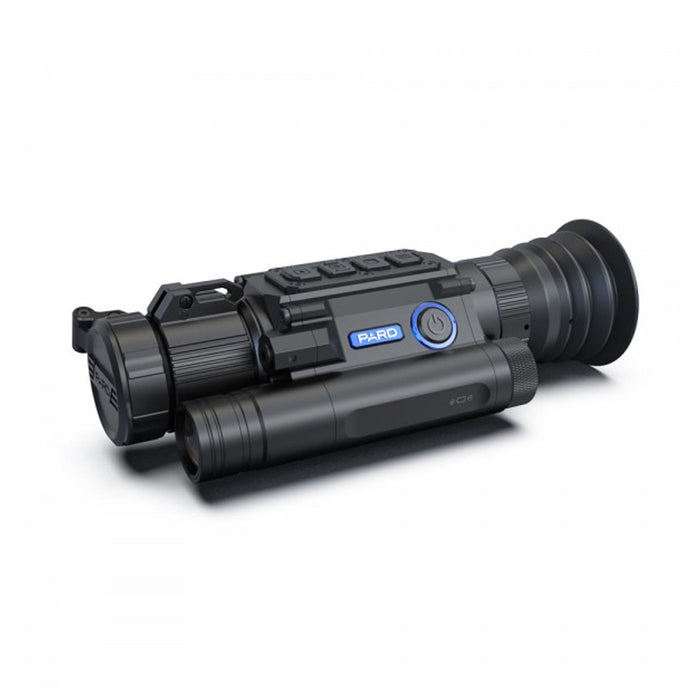 Pard NV008 IR Night Vision Scope w/LRF
Original price
$999.99
-
Original price
$999.99
Pard NV008 IR Night Vision Scope w/LRF
This PARD NV008S Night Vision Scope's 940nm IR limit emits indistinct light to prevent animal detection. For clear viewing in the dark at these distances, the scope incorporates a three-level adjustable IR illumination that can be set to 260', 490', or 1150'. Additionally, you may attain accuracy at distances up to 3940' with this laser rangefinder (LRF) version. The NV008S provides an enhanced visual image with quality improved by more than 20% when compared to the NV008P thanks to PARD's Imaging Engine Module.
The scope's ballistic computation technology makes sure that it is possible to compute a bullet's path with accuracy. It can record in extremely low light levels with a resolution of up to 1920 x 1080 at 30 frames per second to an optional microSD card thanks to its incredibly low 0.001 lux image sensitivity. Additionally, you may enable intelligent auto-recording so that you never miss an important moment by turning on the self-activated recording option.
Ballistic Calculation 
Ballistic Calculator technology firstly used with PARD is a great innovation and breakthrough. The bullet's travel can be precisely calculated, and accurate shooting will be easily achieved.
1200M LRF Rangefinder 
Upgrade laser rangefinder in NV008S can detect objects up to 1200M, which helps hit targets in a longer range.
Sensitivity of Camera up to 0.001lux 
Extremely low 0.001lux is able to record in extremely dark conditions. More opportunities to catch the footage of targets.
Self-activated Recording
Just Switch on Self-activated Recording, the full shooting process will intelligently be auto-recorded and saved in TF card. Never miss a moment!
"PARD VLEA" -- PARD Self-developed Imaging Engine Module
PARD R&D team self-developed an Imaging Engine Module that provides an enhanced visual image. Quality improved by more than 20% compared with NV008P.

"PARD 2K" Self-developed Sensor, resolution: 1920x1080