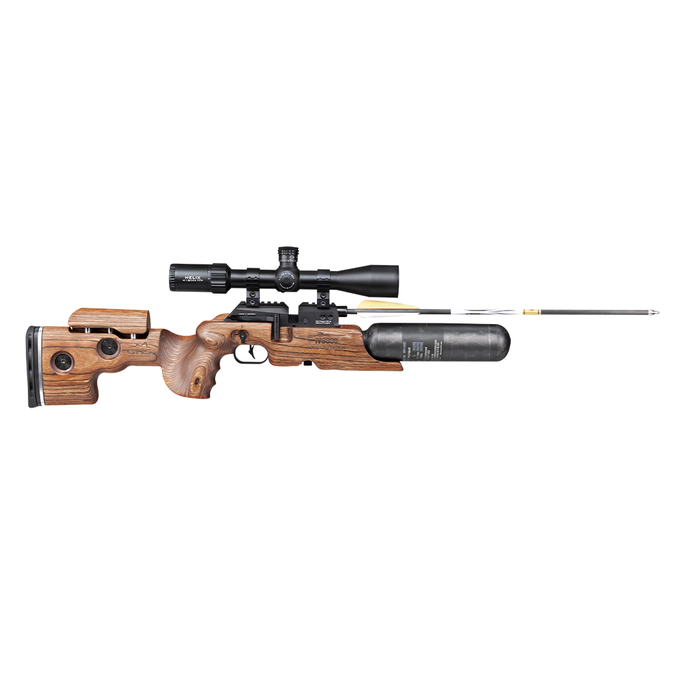 Limited Edition FX Crown MKII Iraq Veteran8888
Original price
$1,799.00
-
Original price
$1,799.00
Limited Edition FX Crown MKII IraqVeteran8888
Presenting the extraordinary limited-edition Iraq Veteran8888 FX Crown MKII in a unique Brown GRS Rifle Stock - an exceptional masterpiece that will delight any air rifle enthusiast. This rifle is tailored for those who crave excellence and exclusivity in their collection.
The Iraq Veteran 8888 GRS Rifle stock is the pinnacle of this product. Each stock is numbered individually, with only 100 ever manufactured. The Brown finish exudes a classic and timeless vibe, setting it apart from the rest. The GRS Rifle stock's ergonomic design ensures a comfortable grip and ultimate accuracy, making it a true standout among its peers.
The FX Crown MKII is already a top-of-the-line air rifle, but this limited-edition version takes it up a notch. The FX Crown Slug Power Kit, pre-installed in this rifle, elevates power and accuracy to unprecedented levels. This kit is engineered to improve the rifle's performance when firing arrows with broad heads or slug ammunition, resulting in unparalleled precision and sheer force.
On top of the Slug Power Kit, the limited-edition Iraq Veteran 8888 FX Crown MKII includes two barrels - the Arrow Barrel and the 500mm Pellet Barrel. The Arrow Barrel is perfect for small game hunting enthusiasts, while the Pellet Barrel is ideal for flawless target shooting. With two barrels, you get the best of both worlds, making this rifle an ultimate versatile tool.
What's more, each rifle sold contributes $100 to Eric and Chad's (Iraq Veteran 8888) Special Operations Wounded Worriers Foundation, making owning this rifle even more meaningful and rewarding.
Overall, the limited-edition FX Crown MKII in the one-of-a-kind Brown GRS Rifle Stock is an unparalleled masterpiece of craftsmanship and performance. With only 100 available worldwide, this rifle is a rare gem and an absolute must-have for any serious air rifle collector. Don't miss out on this unique opportunity to own a one-of-a-kind air rifle.