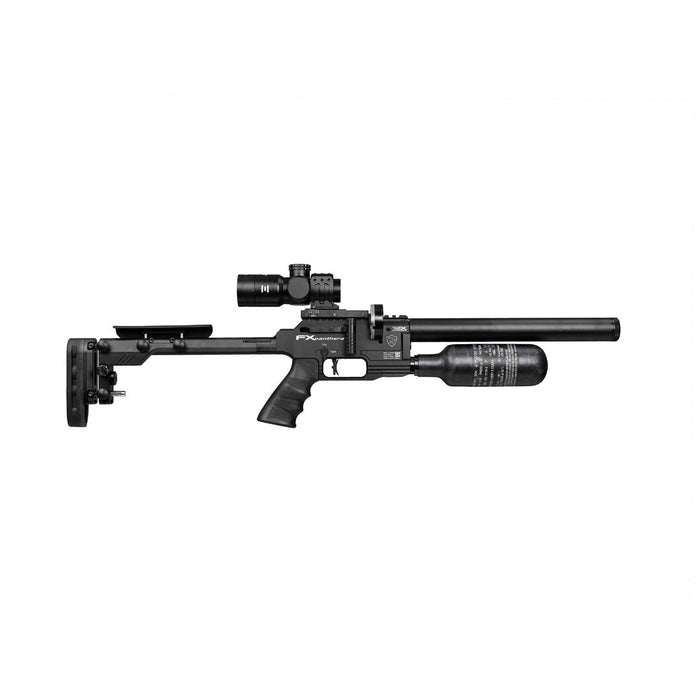 FX Panthera Hunter Compact
Original price
$1,699.99
-
Original price
$1,699.99
FX Panthera Hunter Compact 
FX Panthera Hunter Compact, the ultimate airgun innovation for those seeking power and versatility. Developed by FX Airguns, a leading name in airgun technology, this remarkable pneumatic rifle combines cutting-edge features with a compact design, providing a tailored shooting experience like no other. Now available at North East Airguns, your trusted airgun dealer.
The Panthera Hunter Compact showcases the groundbreaking patented over-the-barrel plenum and high-power/short-impulse valve design, revolutionizing the way pneumatic rifles perform. Originally designed for competition slug shooting, this exceptional technology has now been harnessed to cater to various shooting styles.
Choose your preferred caliber from .177, .22, .25, .30, and experience the superior performance of the shortened FX Smooth Twist X Superior barrel. The .177 and .22 cal models feature a 300mm barrel, while the .25 cal and .30 cal versions boast a longer 380mm and 395mm barrel, respectively. The two smaller calibers utilize a 62cc Macro Plenum, while the .25 cal and .30 cal models employ a new 120cc Macro XL Plenum. With the FX Panthera Hunter Compact, power and precision go hand in hand.
For exceptional balance and comfort during off-hand shooting, the FX Panthera Hunter Compact is equipped with a 300cc carbon fiber bottle positioned at the front of the rifle. With a standard AR grip, a full-length picatinny top rail featuring a built-in 20 MOA, and a rear stock complete with adjustable length of pull and adjustable cheek piece, this airgun ensures a customized shooting experience.
But the personalization doesn't stop there. Enhance your rifle with a range of accessories designed to cater to your specific needs. The FX Dynamic DoubleAir Adapter Kit, for instance, allows you to add an additional 300cc carbon fiber bottle to the rear stock, providing an extended shot count. You can even relocate the existing 300cc bottle to the back and attach a massive 480cc or 580cc bottle to the front, giving you an abundance of air for uninterrupted shooting.
To further expand its capabilities, the FX Panthera Hunter Compact offers additional accessories like the Dynamic Compact Length Arca Rail, which can be added when configured with the bottle in the rear. Plus, the FX Dynamic Side Accessory Pic Rail and the FX Dynamic AR Folding Stock adapter, allowing you to affix a standard AR buffer tube and butt stock, reducing the overall length of the folded rifle to a mere 26 inches.
If you're a passionate shooter who desires a small, compact package without compromising power or performance, the FX Panthera Hunter Compact is the ideal choice for you. Don't miss out on this exceptional airgun. Act now and get your hands on the future of pneumatic rifle technology and experience shooting like never before.
**Scope Not Included