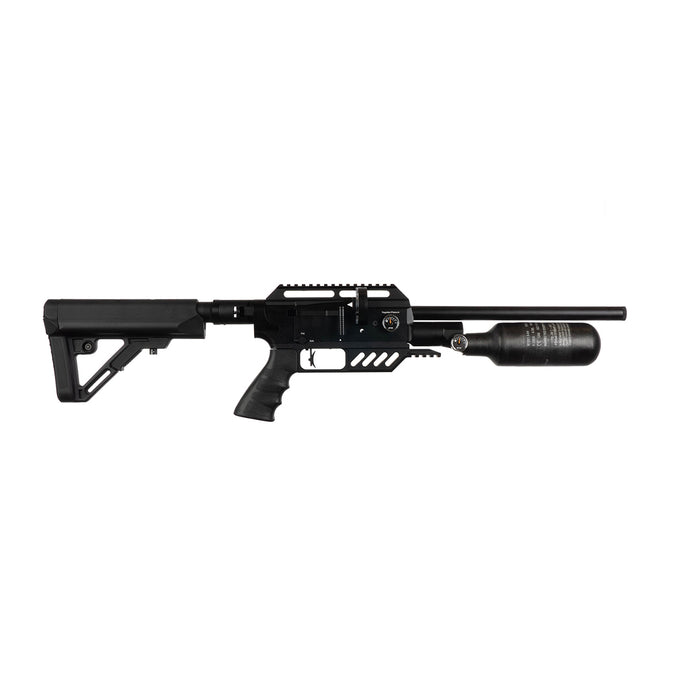 FX Dream-Tact Compact with Carbon Fiber Bottle 300cc
Original price
$1,450.00
-
Original price
$1,678.99
FX Dream-Tact Compact - Carbon Fiber Bottle 300cc PCP Airgun
Looking for a compact air rifle that balances power and precision? Discover the FX Dream Tac: advanced, compact, and designed for accuracy. Explore unrivaled shooting pleasure now.
Unrivaled Performance:
The FX Dream Tac is engineered with state-of-the-art technology to deliver unmatched performance on the shooting range or in the field. Powered by the 300cc carbon fiber bottle, this air rifle boasts a higher shot count and consistent velocities, allowing you to take multiple shots before needing to refill. The result is an air rifle that remains a formidable force, whether you're plinking or hunting.
Compact Design:
Don't let its size fool you. The FX Dream Tac air rifle is designed for convenience and ease of use. Its compact frame ensures exceptional maneuverability, making it perfect for any shooting scenario. Whether you're navigating dense woods or setting up for precision shooting, the Dream Tac's compact design ensures you stay in control at all times.
Precise Accuracy:
FX Airguns is renowned for its commitment to precision, and the Dream Tac lives up to that legacy. Equipped with a high-quality Smooth Twist X (STX) barrel, the Dream Tac ensures remarkable accuracy and consistency with every shot. Experience tight shot groups and improved performance, giving you the confidence to take on any shooting challenge.
Advanced Features:
The FX Dream Tac is not short on advanced features. The adjustable match-grade trigger allows you to set it to your preferred pull weight, promoting smooth and crisp trigger breaks. The Dreamline Tactical Compact AMP (Adjustable Match Precision) regulator provides shot-to-shot consistency, enhancing accuracy and maximizing efficiency.
User-Friendly Cocking System:
Say goodbye to strenuous cocking efforts. The FX Dream Tac incorporates an easy-to-use side-lever cocking system that enables quick and smooth cocking action, minimizing disruptions during shooting sessions.
Take Control of Your Dream Shooting Experience:
With the FX Dream Tac Compact Air Rifle and its 300cc carbon fiber bottle, you are in command of your shooting destiny. Whether you're a seasoned marksman or a newcomer to the airgunning world, this rifle will exceed your expectations in every way.
Don't miss the chance to own the FX Dream Tac and elevate your shooting endeavors. Embrace precision, power, and versatility like never before. Take aim, take control, and make your shooting dreams a reality.
FX Dream-Tact Compact Features
39 inches long (27" folded) in .177 and .22 Cal
41 inches long (31" folded) in .25 Cal
300 mm Barrel (380 MM in .25 Cal)
300 cc Carbon Fiber Bottle
AR Ready Receiver (AR Stock NOT included)
Includes Folding Stock Adapter
Super Lite STX Barrel & Liner System
Uses Standard Side Shot Magazines
Fully Adjustable Reg, Hammer and Valve
Optional DonnyFL Moderator