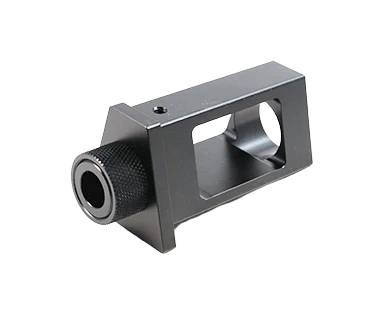 DonnyFL Benjamin .357 Bulldog M18x1 Adapter A41
Original price
$45.00
-
Original price
$45.00
DonnyFL Benjamin .357 Bulldog M18x1 Adapter A41
This design goes back to the barrel and slides over the barrel bushing. This will keep the barrel aligned with the adapter's exit hole. Please note that the barrel bushing is not included. Factory gun already includes the bushing.
The .357 Benjamin Bulldog is becoming popular for big game hunting. Add this adapter and pair it up with a .357 Ronin or .357 Emperor to make it the ultimate hunting airgun.
I would recommend going with minimum the .357 Ronin for this gun. The .357 FX suppressor is not enough to quiet this gun down.
IF you use an Emperor with this gun, do not add the extender. Too much weight added applied to the adapter and may cause inaccuracies. 
Made by CNC for accuracy
Very easy to install. Remove the top and bottom screw securing the front cap and swap it out for this adapter. Screw the two screws back in and you're done. No need to remove the shroud.
Matte Black anodize

Knurled thread protector
When putting this on, press the adapter into the shroud as you tighten the two screws. This will ensure the adapter is flush with the shroud.