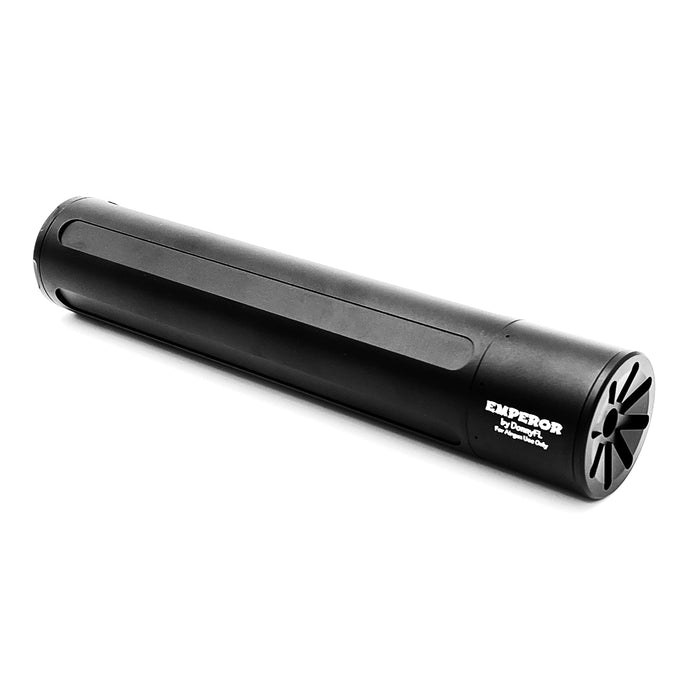 DonnyFL 2 x 10.5 inches EMPEROR v3
Sold out
Original price
$240.00
-
Original price
$240.00
DonnyFL Emperor Airgun Moderator
This Emperor is for the serious high powered airgunner. This version has a mono-core design and allows you to screw on an optional 6.5 inch extender to make it even quieter.
Features:

Compatible with .22, .25, .30, .308, .357, .457 and .50 caliber
Please note:

 

does not come with adapter, please look in our adapter section for the specific adapter for your air rifle.
Endcaps for 1/2 x 20 UNF, M18x1 (big bore), M20x1 (FX Impact/Wildcat)
Precision CNC'd
Comes pre-wrapped in felt and stainless steel mesh
Machined grooves on the outside for easy handling.
Weights around 16 ounces
Comes with protective red tube for easy transport and storage.
Add this optional 6.25 inch extender to make this unit even quieter!
Swap out the rear cap with another thread size.
*Airgun use only, will not ship outside of the US
*Note: If you're shooting .357 cal and above on high power or breaking the sound barrier (1,125 fps) please do not expect mouse fart results. The gun is pushing a tremendous amount of air. It will however allow you to enjoy shooting without the aid of hearing protection.