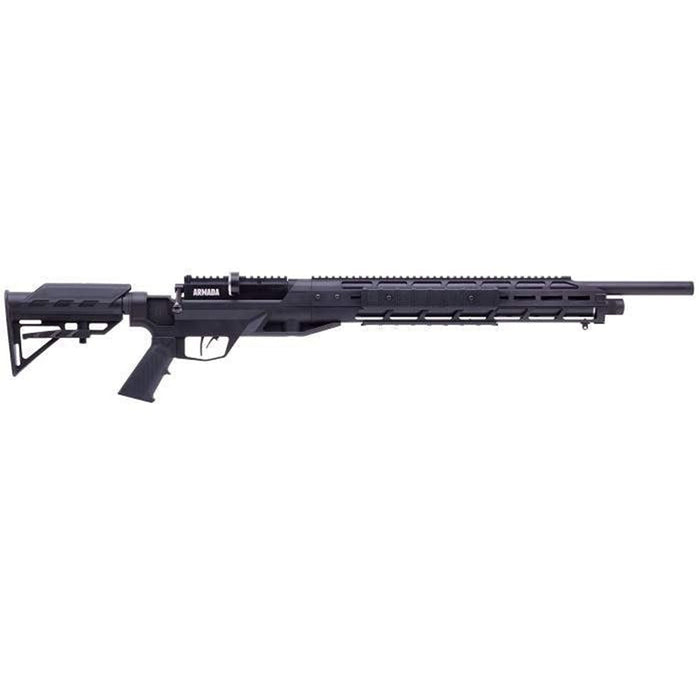 Benjamin Armada
Original price
$679.99
-
Original price
$679.99
Benjamin Armada PCP Air Rifle
Based on the popular Benjamin Marauder, the Armada is tactical black rifle that will pile on pellet on top of another. If you love accurate guns but don't want to fool with a wood stock, this standard version is made for you.

Something you'll find on the Armada that you'll never see on a wood-stocked gun is an abundance of Picatinny rails. Finally, you have enough rail space to load up your gun with tactical gear!

Filling your Benjamin Armada air rifle to no more than 2,600 psi (179 bar) may deliver the most precision. We recommend trying different fill levels between 2000 and 3000 psi to determine the optimum pressure level for your rifle. Each gun is different. A chronograph is the best way to determine optimum fill levels for precharged pneumatics (PCPs).

Most PCPs require 2,900-3,000 psi air pressure. You can run it on high-pressure air from 2,000 to 3,000 psi by making the adjustments shown in the owner's manual.

In fact, the manual states that the Armada air rifle has been set at the factory to a fill pressure that best suits most hunting and target uses.
Benjamin
 Armada PCP Air Rifle Specifications
Benjamin Armada air rifle
Precharged pneumatic
10-shot repeater with auto-indexing feature (8-shot in .25 caliber)
Bolt-action
AR-compatible airgun
Uses compressed air: 2,000 to 3,000 psi (make adjustments as shown in the owner's manual)
Can be adjusted for different velocities
Internal shroud makes this a VERY quiet gun
Choked barrel delivers superior accuracy
2-stage adjustable match trigger...and the trigger is metal!
Raised aluminum breech for easier loading of circular magazine
Magpul M-LOK slotted all-metal handguard with 15" of Picatinny rail space
Machined receiver with 5" of Picatinny rail space
AR-15 pistol grip and telescopic buttstock
Sling-ready (there's a sling slot in the buttstock and a sling attachment point where the bipod is mounted)
Ambidextrous stock
Reversible bolt -- switch from right to left side (with our special service)
Built-in air pressure gauge (manometer)
215cc air reservoir
30+ shots per fill (in .22 caliber)
Can be dry-fired
20" barrel
7.30 lbs. (10.40 lbs. with scope and bipod)
Air reservoir ends with a male quick-disconnect Foster fitting for fast refills (requires a female Foster quick-disconnect adapter to fill from a scuba tank or hand pump)
Includes depinger and 2 unmounted rails that are in the same bag as the owner's manual
Officially licensed rifle for the Magpul M-LOK modular accessory system