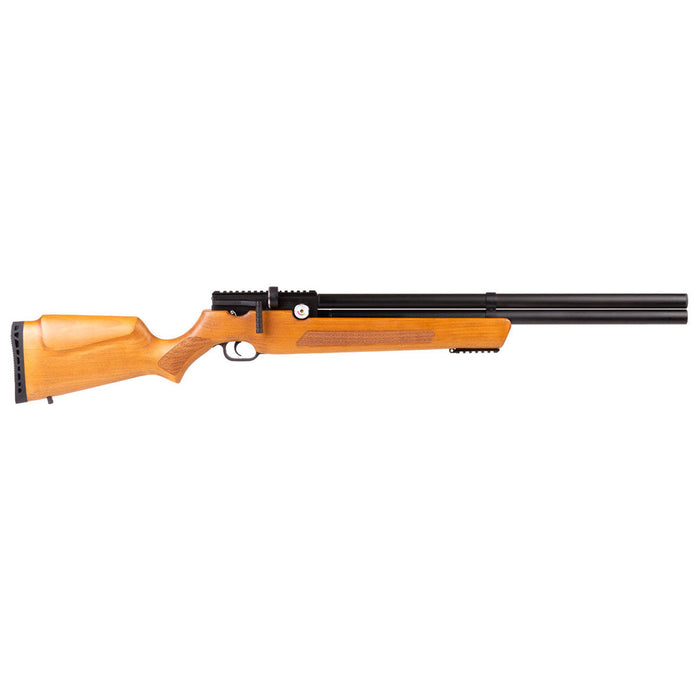 Air Venturi Avenger, Regulated PCP Air Rifle, Wood Stock
Original price
$429.99
-
Original price
$429.99
Air Venturi Avenger, Regulated PCP Air Rifle, Wood Stock

The Air Venturi Avenger Regulated PCP Air Rifle with wood stock is still the answer to the call for an incredibly flexible and accurate entry level PCP, now with a beautiful and robust wood stock. With the Avengers ability to be used as both a target shooting or hunting rifle, it's no wonder that Airgunners demanded a high-value air rifle capable of performing a number of different tasks, and Air Venturi put all of those features in a single, affordable package with the Avenger.
The new wooden stock gives the Avenger Airgun a sturdy feeling while providing a better grip with its textured handle and arm guard. It also has two holes to attach your slings to for easy carrying in the woods or fields.
What makes the Avenger air rifle so different, particularly at this low price point, is its ability to be adjusted. This includes the ability to change the regulator and the hammer spring for your precise power needs.
The Air Venturi Avenger Wood Stock is great for those who have a high-pressure compressor because it's easy to monitor and adjust the airgun. But if you have a hand pump, you may want to use a lower-pressure, lower-power setup. With an easy-to-read regulator pressure gauge on the right side and a fill pressure gauge on the left side, this gun is perfect for all your shooting needs!
Air Venturi Avenger, Regulated PCP Air Rifle, Wood Stock Features
Precharged pneumatic
Sidelever cocking
Ambidextrous wood stock
Texturing on fore-end and grip area
Externally-adjustable regulator (up to 3,000 PSI/210 BAR)
Easily-accessible hammer spring adjustment screw
Two-stage adjustable trigger
180cc air cylinder
Max. fill pressure: 4,351 PSI (300 BAR)
Fully shrouded barrel
Metal Picatinny rail on fore-end of stock
Front and Rear Sling mounting points
Dual gauges – reg. pressure (RH Side) and fill pressure (LH Side)
Male quick-disconnect fill fitting
Easy access degassing screw
Manual safety
11mm dovetail/Weaver combination optics rail
Barrel length: 22.75"
Overall length: 43.25"
Magazine capacity: 10 rounds (.22), 8 rds. (.25)
Includes two magazines and single-shot tray