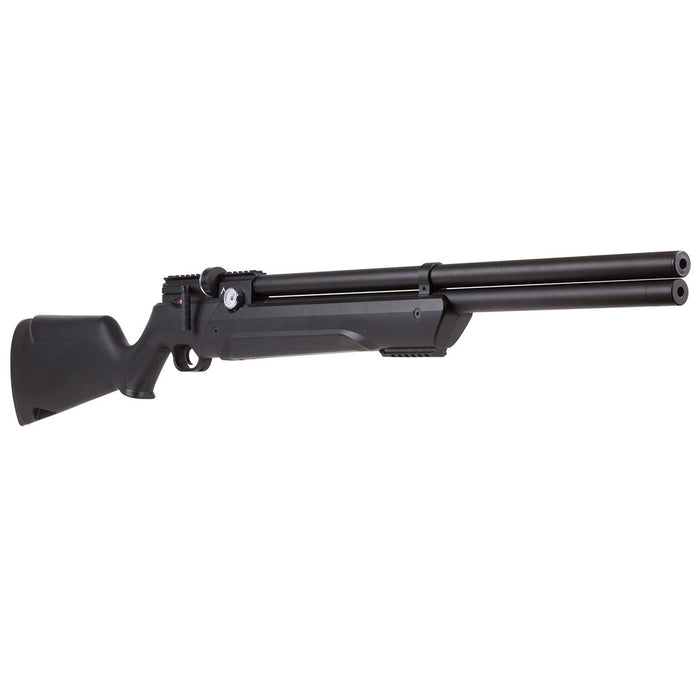 Air Venturi Avenger
Original price
$349.99
-
Original price
$349.99
Air Venturi Avenger, Regulated PCP Air Rifle
The Air Venturi Avenger is the first in its class with high end features that can be found on higher priced guns. The Air Venturi Avenger has an externally adjustable regulator and externally adjustable hammer spring that will give you endless options for performance. The smooth sidelever action will allow you to fire quickly with no recoil, while the fully shrouded barrel will keep your shooting as quiet as possible.
Air Venturi Avenger PCP Rifle Features
Pre-Charged Pneumatic 
Sidelever Cocking
Synthetic Stock
Externally Adjustable Regulator (Up to 3,000 PSI / 210 BAR)
Easily accessible Hammer Spring Adjustment Screw
Two-Stage Adjustable Trigger
Max Fill Pressure: 4,351 PSI (300 BAR) 
Fully Shrouded Barrel
Picatinny Rail on Fore-end of stock
Holes in front and rear of stock for mounting swivel studs for a sling
Dual Gauges - Reg Pressure (RH Side) and Fill Pressure (LH Side)
Male Quick Disconnect Fill Fitting
Easy Access Degassing Screw 
Manual Safety
11mm dovetail/weaver combination scope rail 
Magazine Capacity: 10 rds. (.177 & .22), 8 rds. (.25) 
Includes two magazines and single shot tray
The Air Venturi Avenger Delivers on its Promise
You'll find two gauges to help monitor your shots: one for Reg Pressure on the right side and one for Fill Pressure on the left. You'll also find a crisp, 2-stage adjustable trigger and a male quick disconnect fitting at the end of the air cylinder to make filling it up fast and easy. You'll get two swivel studs and a Picatinny forearm rail to attach any accessory you need, plus your choice of optics mounts in either 11mm dovetail or Weaver Combo Scope Rail. The Avenger is seriously the airgun you want.