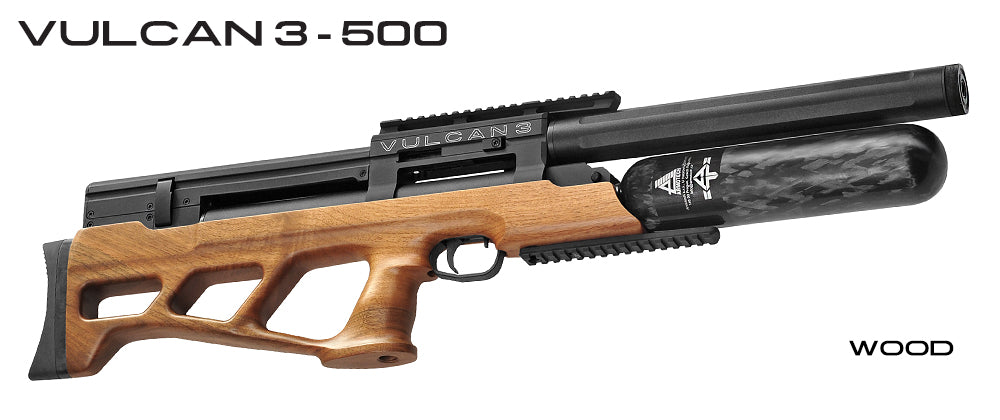 AGT Vulcan 3
Original price
$1,495.99
-
Original price
$1,595.99
Airgun Technologies AGT Vulcan 3
The AGT VULCAN 3 introduces several significant improvements upon the previous generation. One of the most essential changes is VULCAN 3 will be available with the barrel in two lengths: 500 mm and 700 mm.


The 500 mm long barrel (VULCAN 3 – 500)
will be available in all four calibers: 4,5 mm (.177); 5,5 mm (.22); 6,35 mm (.25) and 7,62 mm (.30). The air rifle's overall length is 797 mm and it weighs 3,4 kg.
Unlike the air rifle AGT Vulcan of the previous generation, AGT Vulcan 3 – 500 features a 480 cc carbon fiber composite air bottle.


Combined with the capacity of the air reservoir it makes the 615 cc overall air storage. This more than doubles the volume of air available with the previous model.
Consequently, AGT VULCAN 3 offers more than the double number of shots per fill.
The 700 mmm long barrel (AGT VULCAN 3 – 700) is available in calibers:
5,5 mm (.22); 6,35 mm (.25); 7,62 mm (.30).
The overall length is 997 mm, the weight without scope is 3,8 kg.
Vulcan 3 – 700 is equipped with a 580 cc composite air bottle;
the overall air storage volume is 715 cc.
In addition, both modifications (500 mm and 700 mm) provide a new feature for those who would like to achieve high-powered shots. It is possible to accommodate by the enlarged regulated air chamber. All that should be done is just flip the air reservoir housing (tube) and air pressure regulator.
One of the most substantial upgrades to VULCAN of the next generation is the redesigned monoblock.
Now it is made of a single solid piece and provides both higher rigidity and easier maintenance. The side lever is ambidextrous and can easily be repositioned from left to right.
The air discharge process has been greatly simplified on AGT VULCAN 3.
Now it is similar to the system on the AGT URAGAN. It is possible to drain air out of the rifle simply by loosening the grub screw.
The sound moderator on the AGT VULCAN 3 has been significantly redesigned too. It has been enlarged. It is 38 mm in diameter compared to the 32 mm moderator in the previous generation. Thereby, the new moderator is extremely efficient in suppressing the sound while long shooting sessions. The moderator's construction consists of a single outer tube and the moderator's body that is placed inside. The new sound moderator features a slightly more intricate outer design too.
The AGT Vulcan 3 Has an Updated Airgun Stock
The shape of the stock has been slightly updated. The buttplate is located slightly higher in relation to the cheek-piece now.

As a first among the Airgun Technology rifles VULCAN 3 is equipped with a sloped top weaver for optical sights with a fixed slope of 20 MOA.
As well the bottom Anschutz rail has been replaced with the weaver plank.
The magazine for VULCAN 3 remains the same as for other our rifles. The magazine accommodates:
15 shots in cal.4,5 mm (.177);
12 shots in cal. 5,5 mm (.22);
10 shots – cal. 6,35 mm (.25);
9 shots – cal. 7,62 mm (.30)