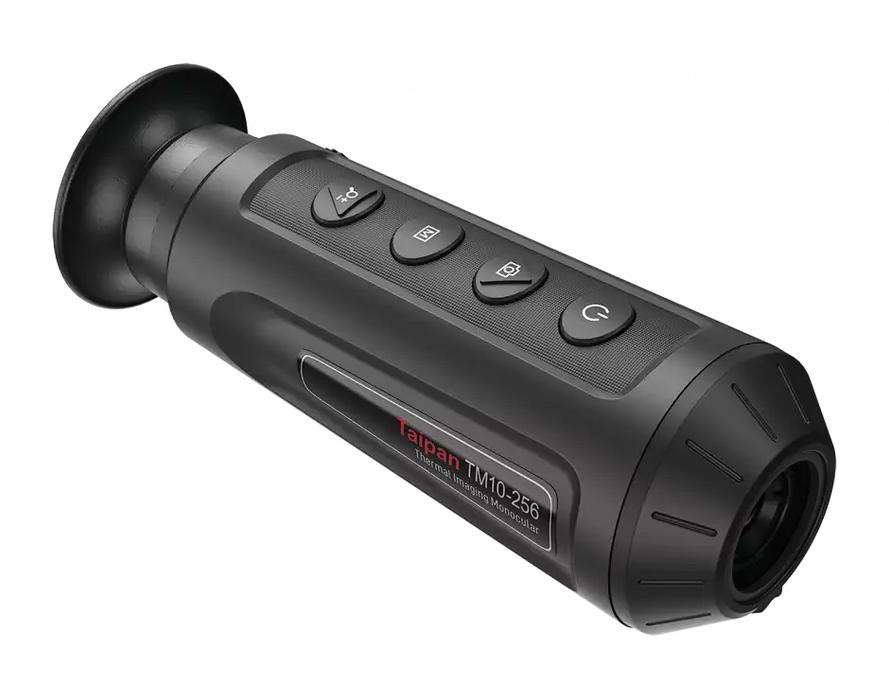 AGM Taipan TM15-256
Original price
$749.99
-
Original price
$749.99
AGM Taipan TM15-256
the AGM Taipan TM15-256, a handheld thermal imaging monocular that helps shooters see in complete darkness. With a high-quality 256x192 thermal sensor and a high-resolution OLED display, the Taipan TM15-256 produces clear and detailed images that allow you to spot and track game or targets in low-light conditions.
This device is compact and lightweight, making it easy to carry and use. Its rugged construction ensures durability in tough conditions, and its multiple color palettes enable customization for different environments or preferences. With a long-lasting battery life of up to 5 hours, you can use the Taipan TM15-256 for extended periods without worrying about running out of power.
The AGM Taipan TM15-256 detects heat signatures, making it easy to spot game or targets in low-light conditions. Its handheld design allows for easy portability in the field, and its ergonomic grip ensures comfortable use even during long periods of operation.
Whether you're a hunter, law enforcement officer, or military professional, the AGM Taipan TM15-256 will provide you with the visual edge you need to succeed in your mission. With the ability to see beyond the limitations of the human eye, you can hunt or operate with confidence in any lighting conditions.
Invest in the AGM Taipan TM15-256 today and experience the power of thermal imaging technology in the palm of your hand.
AGM Taipan TM15-256 Features
256×192 resolution, 12 μm, high sensitivity detector
Adaptive AGC, DDE, 3D DNR
720 × 540 LCOS display
Built-in rechargeable Lithium battery
Up to 8 hours continuous running
(with Wi-Fi hotspot function off)
"Auto Power Off" and "Sleep" modes
Wi-Fi hotspot
Type-C interface
3-Year warranty