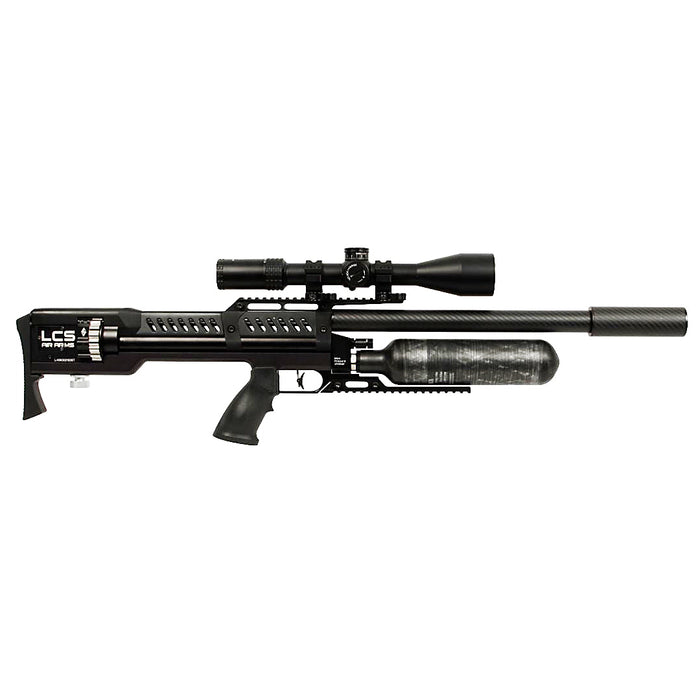 LCS Air Arms SK-19 Semi Auto/Full Auto
Sold out
Original price
$2,299.00
-
Original price
$2,399.00
LCS Air Arms SK-19 Semi Auto and Full Auto Airgun
The SK-19 air rifle from LCS Air Arms represents a new generation in a semi-auto hammer-less design. Made in the USA! The tactical design and select-fire function allow for semi-auto or full-auto rate of fire. The SK-19 provides an incredible rate of fire and high power in either 22, 25, or 30 caliber. The LCS SK-19 magazine provides 19 shots and will chamber the longest of available pellets or slugs.
LCS SK-19's Accuracy is provided by Lother-Walther
Accuracy is provided by a Lother-Walther barrel and a highly tunable regulated action. The regulator is adjustable from a small easy-to-access knob just in front of the air fill. A power wheel at the back of the action gives the shooter further command of the air delivery mechanism. The rifle sports two safeties, a picatinny scope rail, and bipod rail.  The barrel is covered with a carbon fiber style shroud and silencer for low muzzle report.
LCS Air Arms SK-19 is an airgunners dream, a Fully Automatic Air Rifle!
The LCS SK-19 comes standard with a 480cc removable carbon bottle and two pressure gauges for vital air supply and regulator pressure information. In full-auto fire, the rifle will run through the 19 shot magazine in under 3 seconds. The SK-19 is a leap forward in airgunning fun and performance. ***Scope NOT included***