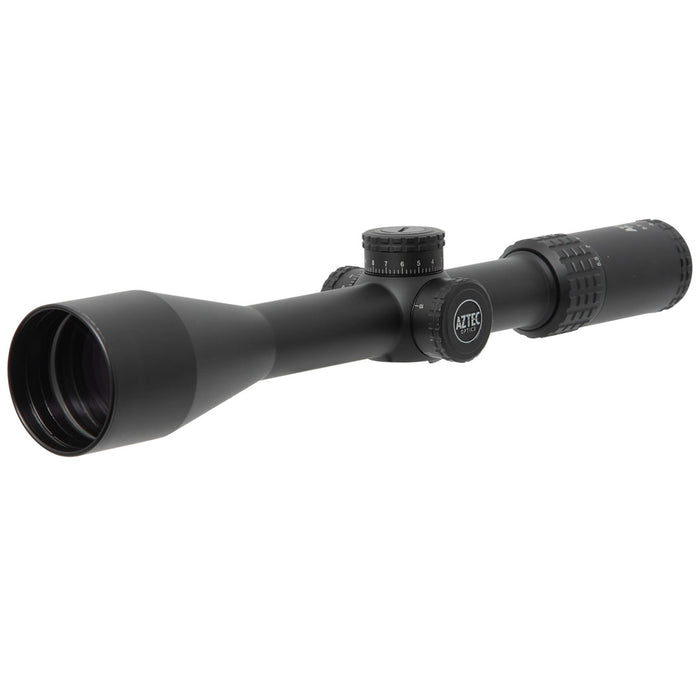 Aztec Emerald Scope 5.5-25x50
Sold out
Original price
$439.99
-
Original price
$439.99
Aztec Optics Emerald Series 5.5-25x50
The Aztec Optics Emerald rifle scope 5.5-25×50 is a masterpiece in design, created in collaboration with the world's top airgunners. It combines the best features and specs into a truly stunning piece of equipment for any marksman.
When you need precision shooting at long distances or when hunting small game, you want an optic that can offer both clear glass and accuracy in its design. That's why the Aztec Optics Emerald series is made with high-quality lenses that are designed to be clear even at long distances. It also has a smaller turret saddle so you can mount your scope closer to your gun's body without interference from your gun's magazine. This means you can get a more precise shot every time!
The reticle was created with a hunter's input to provide the most accurate information about distance when aiming your airgun. It also provides an unobstructed view of the target for a more precise shot.
Other specifications include MOA resetable zero turrets, reticle markings, side focus parallax correction, low profile lockable turrets and two zoom markings.
Aztec Optics is committed to bringing the finest optics to the shooter at the best value and with all the greatest features! Each scope is made from high-quality materials, and attention to detail is of the utmost importance. This quality is maintained with every component used, even down to the box it is packaged within.
Aztec Optics Emerald 5.5-25×50 

Specifications

Illumination: None

Reticle: DYND-1 (MOA)

Multi-Coated Lenses

Actual magnification: 5.5X – 25x

Side Focus 10 yards to infinity

Objective diameter: 50mm

Eye relief: 3.54″ – 3.94″

Field of view: N/A

Tube diameter: 30mm

Turret: 1/4″ MOA

Weight: 25.4 oz

Length: 14.38″

Click value: 1/4 MOA